Biophyll is sourcing, trading, manufacturing and developing biological products of animal, human and plant origin on behalf of customers for pharmaceutical, diagnostic and scientific purposes.
For the first time Biotechnology products can be provided in a fast and economic way directly from any supplier to any customer.
Biophyll and our Austrian partner company M bioserviceS assist Biotech companies worldwide in their sourcing, importation and handling activities.
Particular attention is paid to animal, especially bovine, blood products. Biophyll holds all required approvals for handling animal by-products.
We have more than 25 years of experience in the area of animal by-products for pharmaceutical, diagnostic and scientific applications and are active in more than 30 countries worldwide.
Our customers are:
Researchers
Cell culture users
Pharmaceutical Companies
IVD Manufacturers
Manufacturer of medical device products
Manufacturer of medicinal products
Cosmetics manufacturers
Manufacturers of food supplements
Biophyll offers access to new and rare biological raw materials sourced and distributed worldwide on behalf of our customers' requirements for biopharmaceutical, diagnostic and scientific purposes. All products are manufactured according to our customers' specifications, fully traceable and quality tested.
Biophyll Top Seller
Bovine Serum Albumin
Human Serum Albumin
Animal Sera
Dextran
Human Plasma
Biophyll's expertise is based on more than 25 years experience in handling
rare biological products. Together with our partner M bioserviceS
We find the best product solution
and business development for our customers
Assessment of customers's specific needs
Market screening and independent supplier evaluation
Check for qualitiy and traceability documentation
Recommendation of best product and service for best price
Supply chain financing
TRACES registered European warehousing
Contact to international authorities on customer's behalf
We design your individual logistic
and shipping concept
Door-to-door shipping solutions on land, air and sea
Controlled temperature conditions
Special handling of perishable products
Customs and veterinary clearance
Regulatory advice
Support in complex import and export matters
Export and import documentation
Preparation of veterinary health certificates
Guidance of specific labeling questions
We find the best manufacturing partner according to the customer's and regulatory requirements for biopharmaceutical, diagnostic and research applications.
Whether customers are looking for very rare components or internally formulated custom products, Biophyll is able to deliver tailored solutions according to the customer's exact specifications.
Biophyll is able to maintain inventory of various products and can produce almost any quantity of a desired custom and semi-custom product within any reasonable timeframe.
All products are manufactured under a Quality Management System and are accompanied by fully traceable batch manufacturing records.
Our manufacturing partners are located all over the world
Australia, New Zealand, United States, Canada, Mexico, Argentinia, Chile, Brazil, China, Asia, European Union
Biophyll is involved in the planning and organization of worldwide projects
to develop new solutions for the biotechnology sector.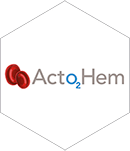 Act-O2-Hem
is an active hemoglobin with high ability to bind Oxygen and bring it to human and animal cells or cell cultures as needed. It is suitable to serve as a potent oxygen carrier in various in vitro and in vivo applications.
Details
The sourcing, processing and transforming of blood derived material into functional products in the needed quality and purity is still rare. Together with our international partners Biophyll researches on new blood derived products according to the required specifications for various in vitro and in vivo applications.
European Project
Bovine hemoglobin as starting
material for the world's first artificial
oxygen carrier for human use

National Project
Manufacturing of qualified and stabilized
Hemoglobin-Enzyme-Solutions
for medical or pharmaceutical use.
Export Bavaria 3.0 – Go International Erschließung des Zielmarktes China
With the support of the Bavaria 3.0 – Go International program, Biophyll aims to establish a reliable logistics chain for the safe and regulation-compliant transportation of sensitive products such as biological raw materials and hazardous goods between China and the EU.